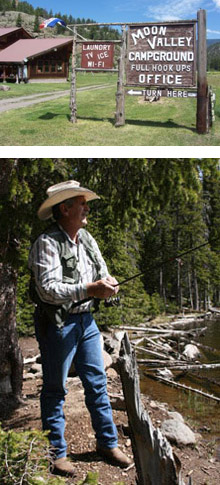 ABOUT US
If you are looking for a beautiful, secluded, easily
accessible spot in the Colorado mountains, you have
found your destination. Although there are many fun
activities readily available nearby, our primary goal is
to create and maintain a calm, beautiful & relaxing
environment for you to enjoy and forget the stresses
of daily life.With stunning high mountain scenery
surrounding us there is no need to leave Moon Valley
to enjoy all the beauty the great outdoors has to offer.

We are family owned and run and have been in business
since 1969. Moon Valley is located on beautiful Wolf Creek
Pass 6 miles from South Fork, CO and 11 miles from the
top of Wolf Creek. Our elevation is 8,000 feet?? The weather
is beautiful with summer temperatures running around
70-85 daytime. Evenings are cool. Our season lasts from
May 1st to September 15th?? A lot of our business comes
from destination camping, with our guests spending
anywhere from one week to 5 months. Many of our guests
return year after year and enjoy spending the entire
summer here.

We have an in depth knowledge of the surrounding sites,
fishing spots, animals and plant life and are more than
happy to answer any questions you might have. Reservations
are recommended because we tend to book up during certain
parts of the season.

The coffee pot is always on and we will greet you with a smile.